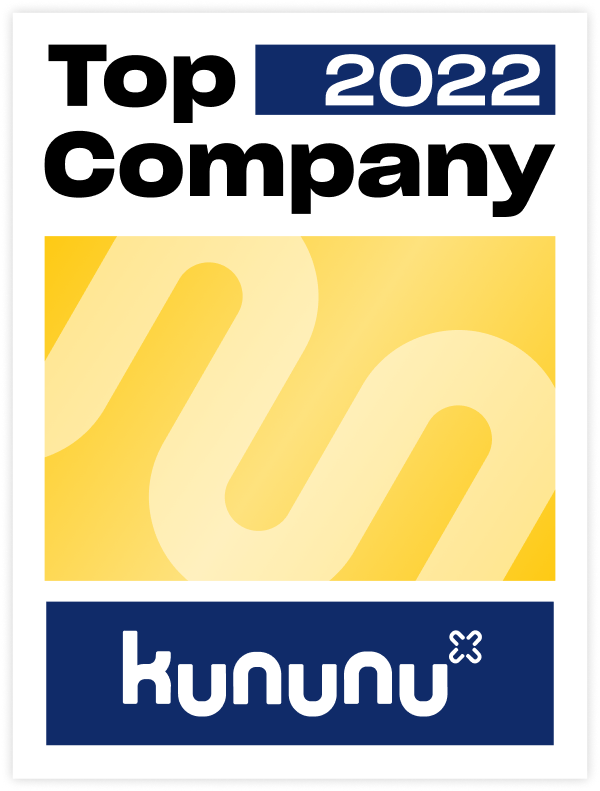 Das Jahr ist noch jung und die neoom group kann sich bereits über eine erste Auszeichnung freuen: Die Verleihung des Top Company 2022 Siegels durch Kununu!
Als extrem stark wachsendes, junges Unternehmen sind unsere Mitarbeiter:innen unser wichtigstes Gut – bringen sie doch das notwendige Know-How und Commitment mit, um gemeinsam an der Energiewende zu arbeiten!
Daher ist es uns ein großes Anliegen, die besten Köpfe nicht nur zu bekommen, sondern auch zu halten. Wir legen deshalb großen Wert auf unser Team sowie auf unsere Unternehmenskultur. Für uns ist es zentral, eine Firmenkultur zu schaffen, welche das Team in den Vordergrund stellt, attraktiv für die besten Talente ist und persönliches Wachstum und Weiterentwicklung forciert. Es freut uns, wenn unsere Bestrebungen auf diesem Gebiet honoriert werden.
"Elektrisierend motivierte Kolleginnen und Kollegen. Arbeit an einem der spannendsten Themen überhaupt; die Zukunft der Energieversorgung. Mehr Umweltbewusstsein ist schwer möglich; wir treiben die (vollständig erneuerbare) Energiewende voran. People empowerment - Bestreben, dass jeder Mitarbeiter die beste Version seiner selbst werden kann."
Anonyme Mitarbeiter:innen-Bewertung auf kununu.com
Senior Software Developer (5,0)
"Dass LinkedIn uns als Top Start-up 2021 ausgezeichnet hat und uns Österreichs bekanntestes Cleantech-Startup nennt, zeigt, dass wir uns in den 3 Jahren seit unserer Gründung Dank unseren Mitarbeiter:innen unseren etablierten Platz in der Branche hart erarbeitet haben!"
Philipp Lobnig
CFO & Human Resources neoom group
Neuigkeiten aus der

Welt von neoom
Awards
Awards

|

neoomiverse
Blog
News
Blog
Awards

|

neoomiverse
References and Projects
References and Projects
Awards

|

neoomiverse
References and Projects
News
References and Projects
Awards
References and Projects
Awards

Neoom wins EY Scale-up Award

This summer, EY, one of the world's leading consulting companies, presented the EY Scale-up Award in Austria for the first time. The winners were...

neoom group von Kununu als Top Company 2022 ausgezeichnet

Kununu: Top Company 2022 Die Auszeichnung als Top Company 2022 ist besonders erfreulich – beruht sie doch nicht bloß auf der Einschätzung einer...

Harvesting the sun

Modern agriculture has many challenges. Coping with the effects of climate change, meeting the demand for more high-quality produce, navigating...

Decentralization is the way

While energy prices of the existing energy system are increasing and at points even skyrocketing, governments peek towards a solution for these...

No skills to pay the bills

And it gets even worse for German energy consumers: The recent electricity and gas price surge in Europe continues to put the continent's consumers...

NTUITY won Digitalos 2021

The Internet of Energy platform NTUITY received another award: The Oberösterreichische Nachrichten, together with their partners, choose Upper...

IKEA is completely rethinking the furniture store.

The spacious roof terrace offers a marvellous 360° view of Vienna. If you lift your gaze, you will discover an airy roof construction peppered with...

"Kolm Moden" relies on know-how from neoom for its energy generation

That's why, more and more companies are deciding to put energy production into their own hands. To be able to do so, neoom provides them customized...

We are Austria's best-known cleantech!

For the first time, the career network Linkedin published a list of the "Top Start-ups 2021". The ten most attractive employers from the start-up...

From PV to e-fleet: Neubacher Metalltechnik relies on neoom

The energy transition depends on innovative systems and joint efforts. And neoom is actively helping to shape it. On the one hand, by offering...

Big summer news - 11 million investment for further growth!

As lead investor, the family office Z.E Fund Trust, represented by Mr. Maximilian Zeller, led the round. Among others, the Luxembourg-based Nixdorf...

Winemakers also rely on neoom

One person who feels changes in the climate and the environment every day is winemaker Robert Direder in Kirchberg am Wagram: "As a winemaker, I am...

ENERGY GLOBE WORLD Award for PHANTOR

In many parts of the world, a functioning water supply cannot be taken for granted. But where others see a problem, the Imhotep.Industries team...

Leading building materials company QUARZOLITH installed intelligent solar system

Since decades QUARZOLITH is considered as a reliable partner for the entire construction industry and positions itself as a full-range supplier. Our...

neoom BLOKK is nominated for the TÜV Austria Science Award 2019

Our submission is one of the TOP 3 of all submissions! The topic of our submission was neoom BLOKK, the scalable energy storage system for commercial...

Weiterlesen
Weiterlesen
Weiterlesen
Weiterlesen
Weiterlesen
Weiterlesen
Weiterlesen
Weiterlesen
Weiterlesen
Weiterlesen
Weiterlesen
Weiterlesen
Weiterlesen
Weiterlesen
Weiterlesen
Bei uns steht das
Team im Mittelpunkt
Wir sind ständig auf der Suche nach motivierten Menschen, die mit uns gemeinsam die Energiesysteme der Zukunft gestalten!